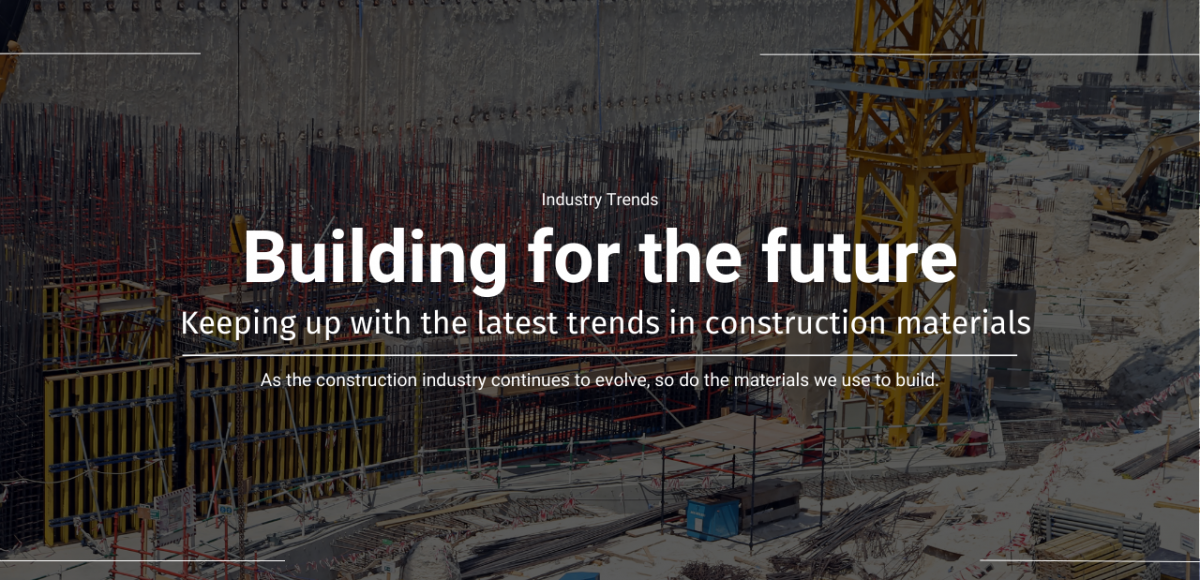 Latest Trends In Construction Materials
Building for the future: Keeping up with the latest trends in construction materials.
As the construction industry continues to evolve, so do the materials we use to build. From eco-friendly options to new technologies, the latest trends in construction materials are pushing the boundaries of what's possible. Here are a few examples:
Cross Laminated Timber (CLT):
CLT is a type of engineered wood that is strong, durable, and sustainable. It is becoming increasingly popular as a building material because of its ability to withstand earthquakes. Its low carbon footprint. CLT has excellent acoustic and thermal insulation properties, which can help to improve the energy efficiency of a building.
Also, CLT is a fire-resistant material, with a fire-resistance rating of up to 120 minutes in some cases, which is comparable to that of concrete and steel.
Here are examples of recent projects that have used CLT:
The Tower at PNC Plaza in Pittsburgh, USA:
This is the tallest modern mass timber building in the world, standing at the height of 32 stories. The building uses CLT for its floors and walls, as well as for its structural system.
Reference: https://www.gensler.com/projects/the-tower-at-pnc-plaza
The Treet in Bergen, Norway:
This is a 17-story residential building that is constructed entirely out of CLT. The building was completed in 2014 and was the first high-rise building in the world to be made entirely out of CLT.
Reference: https://urbannext.net/treet/
Recycled materials:
From recycled steel to recycled plastic, using recycled materials in construction is a trend that is gaining momentum. Not only is it good for the environment, but it can also help to reduce costs.
According to the U.S. Environmental Protection Agency (EPA), the construction industry is the largest consumer of recycled materials, using around 29% of all recycled materials in the United States.
Reference: http://rubberbond.co.uk/blog/recycling-buildings-10-building-materials-that-can-be-reused-after-demolition/
Example of a recent project that has used recycled materials in construction:
The Canopy by Hilton in Portland, Oregon, USA:
This is a hotel that was built using a variety of recycled materials, including reclaimed wood, reclaimed metal, and recycled glass. The hotel also features a green roof and a rainwater harvesting system.
Reference: https://purefreeform.com/portfolio-item/canopy-by-hilton/
Smart materials:
Smart materials are materials that have one or more properties that can be significantly changed in a controlled manner by external stimuli, such as temperature, light, magnetic or electric fields, or mechanical stress.
Smart materials, such as self-healing concrete and shape-memory alloys, are being used to create buildings that are more resilient and energy-efficient.
Self-healing concrete can repair itself when cracks appear, while shape-memory alloys can be used to create structures that change shape in response to temperature or other environmental changes.
Reference: https://www.smithsonianmag.com/innovation/with-this-self-healing-concrete-buildings-repair-themselves-180955474/
Shape-memory alloys
These smart materials can change shape in response to temperature or other environmental changes. They can be used to create structures that can change shape in response to changes in temperature, such as bridges that can expand and contract with temperature changes.
Reference: https://www.comsol.com/blogs/analyzing-an-arterial-self-expanding-stent-with-comsol-multiphysics/
Here is an example of a project that has used smart materials:
The Dynamic Tower in Dubai, UAE:
This tower is designed to rotate 360 degrees and is equipped with smart technology that allows it to generate its own power through wind turbines and solar panels. The building also features a rainwater harvesting system and a greywater recycling system.
Reference: https://www.architecturaldigest.com/story/dubai-wants-to-build-a-rotating-tower-where-the-view-changes-on-demand
3D printing:
3D printing technology is being used to create customized building components, such as walls, roofs, and structural elements. This technology can also enable the creation of unique building designs that would be difficult or impossible to produce using traditional construction methods.
It can help to reduce the environmental impact of construction by minimizing waste and reducing the energy needed to produce building materials.
The construction industry has seen a significant increase in the use of 3D printing, with the technology being used to create structures, building components, and architectural models.
Reference: https://iaac.net/wasp-3d-printing-eco-building/
Here is an example of a project that has used 3D printing in building construction:
The Chinese 3D Printed House in Beijing, China:
This house was constructed using a 3D printer and features a unique, curved design. The house was printed in just 45 days and is considered to be the first 3D-printed house in China.
Reference: https://www.realestate.com.au/news/totally-3d-printed-house-created-in-china-over-45-days/
Biophilic design:
Biophilic design is an approach that incorporates natural elements into building design to improve the health, well-being, and productivity of the people who use them.
It can increase the sustainability of a building by incorporating natural materials and energy-efficient strategies, as well as reducing the building's environmental footprint.
Biophilic design can increase property value by making buildings more desirable and attractive to potential buyers and tenants.
Also, it can increase the resilience of a building by incorporating natural elements that can help to mitigate the effects of environmental stressors, such as extreme temperatures or heavy rainfall.
Reference: https://nickiandkaren.com/ask-a-realtor/eco-friendly-home-trends-real-estate-market/
Here is an example of a project that has used Biophilic design:
The Amazon Spheres in Seattle, USA:
The Amazon Spheres are a set of three interconnected glass domes that house a variety of plant species from around the world. The spheres are designed to provide a natural environment for employees to work and relax in and feature a variety of biophilic elements such as living walls, natural light, and water features.
Reference: https://www.archdaily.com/920029/amazon-spheres-nbbj
Final Words:
As a school construction accessories and equipment supplier, VMKON stays on top of the latest trends and technologies to provide the best options to our clients.
Contact us to learn more about how we can help you bring your project to the next level.